Ethereum Price Prediction: ETH/USD Hikes Continually to Touch a Resistance at High Point of $4,000
Ethereum Price Prediction – May 9
ETH/USD keeps mooning to achieve about 6.43% after a sudden brief break past the $4,000 resistance line.
ETH/USD Market
Key Levels:
Resistance levels: $4,200, $4,600, $5,000
Support levels: $3,400, $3,000, $2,800
ETH/USD – Daily Chart
The ETH/USD daily chart shows that the crypto-market has kept a straight-line up above the crucial resistance level of $3,600 as of writing. The coin has briefly traded past a higher value of $4,000 initially. The 14-day SMA trend-line is located over the 50-day SMA indicator far below the current trading zone with a space between them. As the crypto market's value is held far above the SMAs, the momentum could still potentially gain more swing highs. The Stochastic Oscillators are in the overbought region appeared consolidating presently within it to denote the much presence of bulls' gain in the market.
Will the resistance point of $4,000 turn tougher against the ETH/USD more upsides?
A deep look at the present technical approach of the ETH/USD market indicates that the long straight-line bullish trend potentially portends favoring more ups to feature. In the light of that, a sudden spike towards the key $4,000 resistance could eventually bring about more gains above the level of the immediate $4,200 resistance level.
Taking a look at the downside, any failing attempt that the crypto-market makes below the $4,000 level may be a strong rejection point that could bear could take advantage of to control the market trading position quickly. And, that could lead to series of lowering trading conditions toward the support of the $3,200 level in the long run.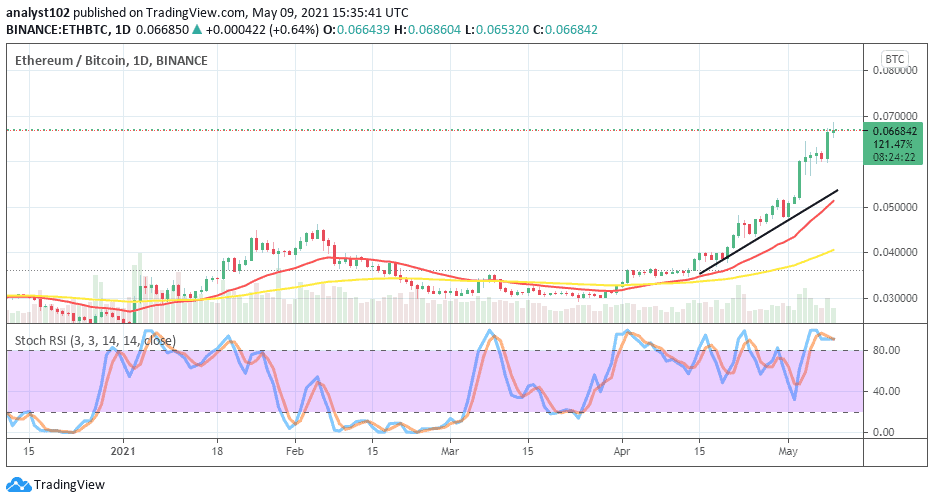 ETH/BTC Price Analysis
The ETH/BTC chart depicts that the value of base crypto is on a higher appreciating moving mood as compared with the counter crypto. On May 3 and in extension on May 8, the base crypto coin elongated its worth as paired with the counter instrument. The space between the SMAs has widened. The 14-day SMA trend-line is located over the 50-day SMA indicator. The Stochastic Oscillators are in the overbought region consolidating to affirm the market prevailing situation of the base crypto-coin over the counter tool. But, soon, the counter crypto may pose a resistance that causes a difficult trading moment in the next session.