XRP Price Prediction: XRP/USD Experiences Set-Back Trading Against Vital Support at $1.40 Point
XRP Price Prediction – May 4
The recent resumption of price rally in the valuation of XRP/USD suffers a setback as the crypto-economy now trades against the key support level of $1.40.
XRPUSD Market
Key Levels:
Resistance levels: $1.70, $1.80, $1.90
Support levels: $1.20, $1.10, $1
XRP/USD – Daily Chart
Despite the latest shaking price reversal in the XRP/USD market, it is still depicted on the daily trading chart that the smaller SMA has got a slight early pull-up after it was breached to the south. The 50-day SMA indicator is situated in between the points of $1 and $0.80 below the 14-day SMA trend-line which is located a bit below the $1.40 trading level. The Stochastic Oscillators have crossed the hairs towards the south at range 80 to suggest the possibility of getting to a return of a downward move in the XRP/USD market space in the near session.
Will the XRP/USD market yet begin to see more downsides underneath the $1.60 line?
It is currently established that the XRP/USD market is most likely to succumb to some degrees of falling pressures underneath the key trading resistance level of $1.60 for a while. However, a sudden pull-up against the trading zone could potentially cause a nullification of that assumption. And, based on that if it happens eventually, it will likely enable the crypto's value to achieve a higher line surpassing the previous peak point.
As regards the depression in the price of this crypto-market, bears need to strongly position themselves now in the market as the $1.60 has been marked as a starting zone for sell-offs against the crypto's market value. More intense pressure in support of the current price depreciation may bring down the crypto's line further to touch a support point around the $1.20 or $1.10 and, in an extension of $1.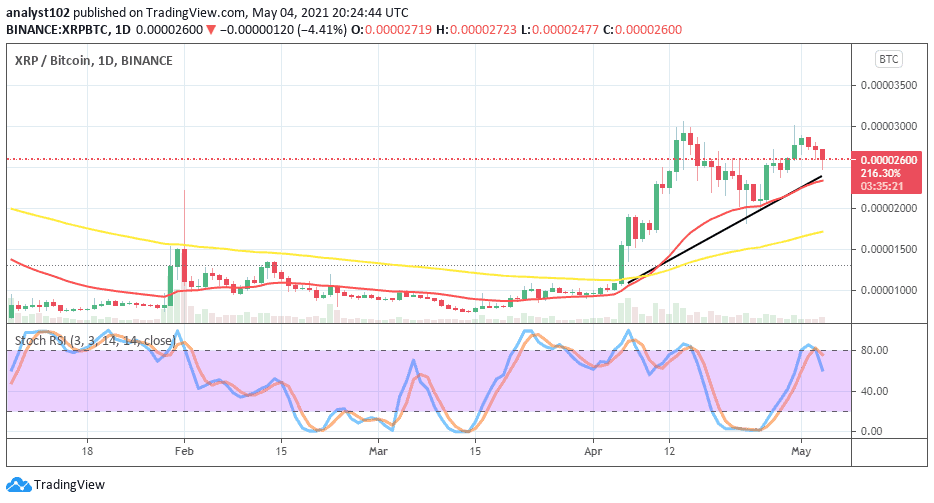 XRP/BTC Price Analysis
Placing the market dominating capacity of XRP and BTC side by side, it shows currently on the chart that the base crypto has only been experiencing a less-active line of correction as paired with the countering instrument. There has a formation of small bearish candlesticks towards the trend-line of smaller SMA from the top. The 50-day SMA indicator is placed with a gap below the 14-day SMA trend-line. The stochastic Oscillators have crossed the hairs at around range 80 to the south. That signifies a warning signal against seeing further cheaply buying pressures against the purchasing power of the counter crypto.