XRP Price Prediction: XRP/USD Prolongs Trading Around the Level of $1.50
XRP Price Prediction – May 10
XRP/USD continually holds trading around the level of $1.50 at a small reduced 0.02%. Noticeably, ups and downs in the crypto's value are featured on the buy signal side of the smaller SMA trend-line.
XRPUSD Market
Key Levels:
Resistance levels: $1.70, $1.90, $2.10
Support levels: $1.25, $1.15, $1.05
XRP/USD – Daily Chart
The daily chart reveals that XRP/USD has continued to hover around the market level of $1.50 over a couple of sessions. As price stays closely above the smaller SMA, gives way to having a kind of short-line range movement. However, the 14-day SMA trend-line indicates a slight bullish run as it is supported by the drawing of the bullish trend-line spanning from the lower critical support line of $1 to place closely below the $1.50 level. The Stochastic Oscillators have unwittingly from the overbought region moved downward to place near above a range of 40. That portends that there is a degree of indecision trading situation ongoing as of writing.
Will the XRP/USD survive trading past the $1.50 level?
Reading the XRP/USD current market technically, it shows that bulls are getting set for action most especially when the main $1.50 level witnesses a sudden breakup A more upswings may as well follow suit building on the aftermath momentum that such bullish forces will produce in series. In the course of that assumption playing out, the probability that the previous higher value around $2 will be heightened in a bid to enter another higher trading level while it is breached to the north.
As regards the contrary to the market upside analysis, if price succeeds at breaking the $1.50 together with the trend-line of 14-day SMA, then, that could be a return of retracement. And, that could in the long run lead to bringing down the market value to a lower zone between the lines of $1.30 and $1.20.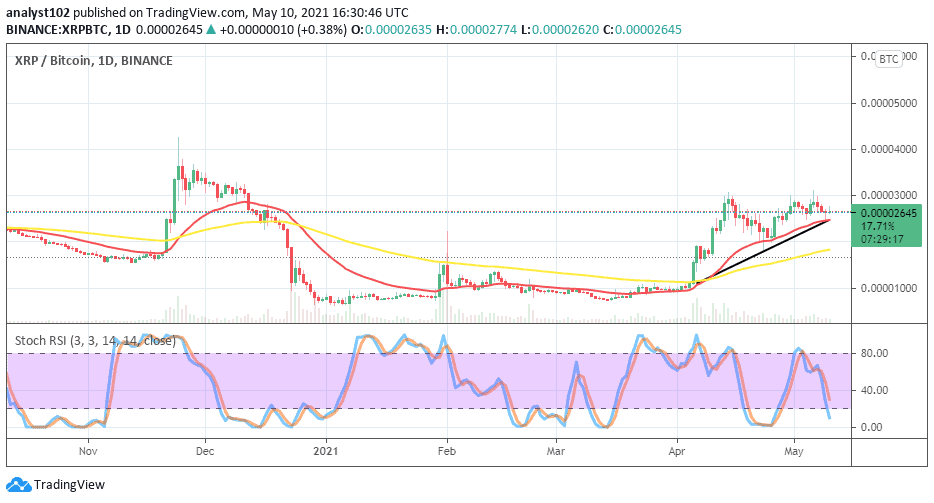 XRP/BTC Price Analysis
Placing the worth valuation of XRP and BTC on the cryptos' economies scale, the base instrument is still to some extent outweighs the purchasing power of the counter crypto. Variant short candlesticks are being formed to represent the present low-active trading condition of the market. The 14-day SMA trend-line is over the 50-day SMA indicator. The Stochastic Oscillators have swerved southwardly from the range of 80 to briefly touch into the oversold region. Going by that reading, the counter crypto's capacity seems liable to decimation as the base crypto appears to exert more pushes again. In the next session.